Women's shoes in autumn 2023 - these are the trends Part 1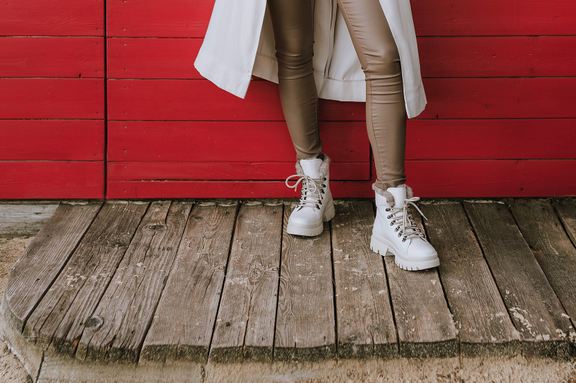 Whether flat heels, exciting over-the-knee boots or ankle-high ankle boots - the new autumn shoes for women present a multi-faceted symbiosis of functionality and style. Versatility is also a top priority when it comes to materials. The coming shoe fashion not only looks good, but also meets the requirements of the weather. Besides variants made of pure leather or mixed materials, rainproof, lined rubber boots show their style quality. But the golden season has much more to offer!
Combat Boots - rocking women's shoes
Thick soles with a rough tread, robust look: lace-up boots in beige, brown or black set the tone and give your outfit a non-conformist finish. These cool boots are not only weatherproof, but also exciting combination talents: While tough outdoor looks with functional trousers and a parka are a given, the tough look of the shoes can also be broken up wonderfully with an oversize knitted jumper over leggings, or with a playful dress and long woollen coat. Some models have a cosy inner lining that keeps your feet nice and warm even in low temperatures. They are perfect companions for extensive walks in the colourful autumn landscape.
Combat boots for rocking looks
Timeless and minimalist: pumps in a clean design
Of course, autumn is not only about dirty weather and walks: Real evergreens like black pumps are also welcome now. Elegant women's shoes will equip you for festive events and occasions where things can be a little fancier. These timeless classics complete every shoe rack and can be integrated into any wardrobe, no matter how colourful. Closed-toe pumps are the ideal choice for formal events because they can be worn with socks or thin tights. There's no question about it: black pumps are a fashion statement and are not considered a woman's secret weapon for nothing - style icons like Audrey Hepburn and Marilyn Monroe already knew about the effect of these seductive women's shoes.
Black pumps in a clean design
Slingback pumps - symbol of elegance
Would you like something a little more feminine? Slingback pumps are also one of the trends for autumn 2023 and come with straps and a delicate fastening at the heel. They are a playful and elegant sub-type of the classic pump. Depending on taste, they come with heels in different heights: There are almost flat interpretations such as sling ballerinas or also sling high heels with heels from ten centimetres. The sweet straps offer stability and support while walking and skilfully showcase your slender ankle. These popular women's shoes come in many colours and designs and always give your look a feminine upgrade.
Slingback pumps for autumnal elegance