Women's shoes in autumn 2023 - these are the trends Part 2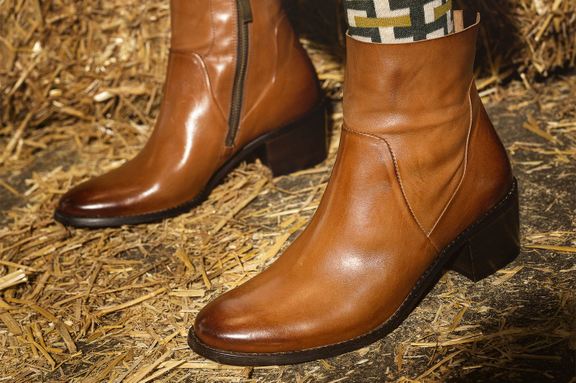 Shapely legs and casual attitude - western style does it
With cowboy boots, the fashion world has an on-off relationship, and in autumn 2023, these fancy shoes are definitely on with ladies! Soft leather caresses your foot, fine ornaments and decorative stitching set exciting accents and attract all eyes. If you fancy combinations outside the mainstream, opt for reptile-look versions - especially together with a chic two-piece or the popular short black dress, these women's shoes make for a trendy style break. Another advantage: almond-shaped shoe toes and the comfortable block heel stretch the legs, flatter your silhouette and underline the feminine touch of these cool must-haves.
When it gets colder: Show your colours
Boots, booties and sneakers in black, brown and beige always go, but gaudy versions are also in this autumn. Especially women's shoes in the colour purple set bright accents on dreary, grey days and put you in a good mood just by looking at them. They harmonise perfectly with the muted colours of the autumn and winter wardrobe. Chic, casual, sporty - they are available in numerous designs, leaving nothing to be desired. Cold feet at the end of the day? No, thanks! Cosy slippers made of purple felt have a temperature-regulating effect, are breathable and extremely stylish - not only your feet will be happy, but also your eyes!
Sock boots: women's shoes that take centre stage
They are also celebrating a furious comeback and look particularly stylish in the cooler seasons: sock boots. They fit close to the ankle like a second skin, can be put on and taken off quickly with their soft, elastic shaft and are extremely comfortable to wear. Whether with a stiletto or block heel - these cool boots are the perfect alternative to Chelsea boots or lace-up shoes. But autumn trends or not, the basic rule is: wear what you feel comfortable in. At Schuh Lüke, choose women's shoes that match your personal style and the requirements of your activities - that way you can't go wrong and will always be self-confident, authentic and individual!